Distinguished healthcare leader welcomed as member of exclusive forum for industry visionaries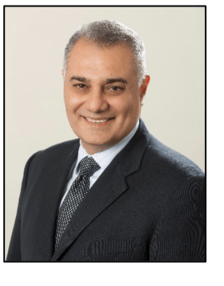 ATLANTA, November 14, 2019 – Emad Rizk, M.D., chairman, president, and chief executive officer of Cotiviti, has joined the Healthcare Leadership Council (HLC), a coalition of chief executives from the nation's leading healthcare organizations focused on making affordable, high-quality care accessible to all Americans. As a member of HLC, Dr. Rizk will draw on his decades of experience in the payer and provider sectors to advocate for measures that will increase the quality and efficiency of healthcare through a patient-centered approach.
"I truly believe in HLC's mission and its commitment to bringing the public and private sectors together to leverage data in order to meet the needs of consumers, and improve overall health outcomes," said Dr. Rizk. "I am ready to collaborate with this prestigious group to drive innovative solutions to healthcare's problems, focusing on addressing key industry issues such as convergence among stakeholders, quality improvement, and value-based care."
HLC is the only health policy advocacy group that represents all sectors of the healthcare industry, comprising executives from all disciplines within the healthcare landscape including health plans, hospitals, information technology companies, and more. With deep expertise in payment, quality, and risk adjustment, Dr. Rizk will draw on his work with Cotiviti's health plan customers to help the council uncover information that will empower healthcare leaders to make sound choices that will lead to cost-effective healthcare and significantly improve outcomes.
"HLC members have demonstrated time and again that the private sector can transform the U.S. healthcare system," said Mary R. Grealy, HLC president. "Dr. Rizk's experience leading companies such as Cotiviti, which is focused on leveraging data to deliver insights into the healthcare system's performance, will be an incredible asset to our organization as we work to further increase the accessibility of healthcare, improve overall healthcare quality, and shape system-wide improvements."
In addition to HLC, Dr. Rizk serves on numerous boards across the country, including as a director of the National Alliance for Hispanic Health, which works to reduce disparities in healthcare coverage as well as improve care access and quality for minority communities. He is also an ardent advocate for policy changes aimed at improving clinical and financial outcomes, supporting interoperability-centered initiatives such as breaking down siloes to optimize data-sharing, and adopting a single patient identifier to make all relevant data available across all systems in the healthcare ecosystem. Dr. Rizk has also received extensive recognition for his trusted leadership and dedication to advancing the industry. He frequently contributes his expertise to top-tier healthcare publications, lectures at colleges and universities, and, most recently, was a featured speaker at the HLTH 2019 conference.
About Cotiviti
Cotiviti is a leading solutions and analytics company that is reshaping the economics of healthcare, helping its clients uncover new opportunities to unlock value. Cotiviti's solutions are a critical foundation for healthcare payers in their mission to lower healthcare costs and improve quality through higher performing payment accuracy, quality improvement, risk adjustment, and network performance management programs. The company also supports the retail industry with data management and recovery audit services that improve business outcomes. For more information, visit www.cotiviti.com.
About the Healthcare Leadership Council
The Healthcare Leadership Council (HLC), a coalition of chief executives from all disciplines within American healthcare, is the exclusive forum for the nation's healthcare leaders to jointly develop policies, plans, and programs to achieve their vision of a 21st century system that makes affordable, high-quality care accessible to all Americans. For more information, visit www.hlc.org.
Media Contact:
Ashley Owen
Aria Marketing for Cotiviti
(617) 332-9999 x 216
aowen@ariamarketing.com
Media Contact:
Michael Freeman
Healthcare Leadership Council
(202) 449-3438
mfreeman@hlc.org