Using both clinical and claims data from Caspian Clarity, Cotiviti's longitudinal data and analytics ecosystem, we have put together an outbreak tracker to help forecast which geographic areas may be impacted by COVID-19 in the immediate future.
Click on a state above to drill down to the county-level view. Darker areas indicate more leading indicators of potentially hidden outbreak based on the signature care profile of COVID-19. Highlighted areas that have not already seen a surge of confirmed cases are at greater risk of hidden outbreak.
Key takeaways
Based upon our latest forecast made May 31, 2020, the following states have seen the most significant increases in their likelihood of potentially hidden outbreak week over week, indicating they may be areas of particular concern for additional COVID-19 cases in the immediate future:
Alabama

Arizona

Delaware

Hawaii

Louisiana

Maryland

Puerto Rico

Tennessee

Texas

West Virginia
Meanwhile, darker areas in the second map below indicate states with a longer downward trend in leading indicators of potentially hidden outbreak week over week, indicating that efforts to curtail the outbreak appear to be succeeding.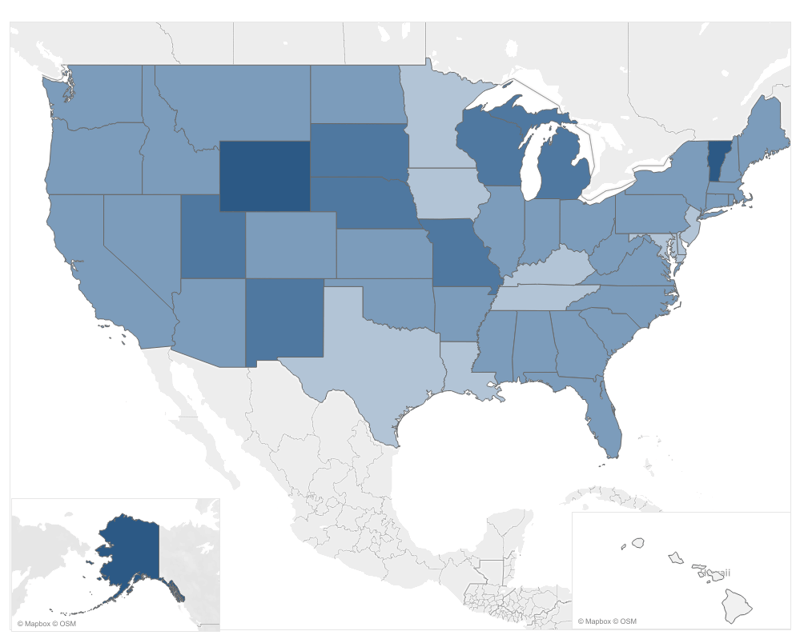 States that appear darker on both maps have a longer week-over-week downward trend, but also have a recent increase in leading indicators. This recent increase could be normal variation, but it could also indicate a reversal of the longer downward trend. These states may be at more risk of resurgence as they are lifting lockdown restrictions.
These maps are intended to help inform decision-making in a rapidly changing and complex environment while encouraging all healthcare consumers to follow stay-at-home orders and social distancing recommendations.
Cotiviti supports the guidance that all Americans diligently follow social distancing guidelines and stay-at-home orders to help flatten the curve and protect vulnerable populations from COVID-19. This is particularly important in areas of emerging hidden outbreak, as many individuals with COVID-19 are asymptomatic but can still transmit the disease.
Methodology
The U.S. healthcare system has been severely challenged by the lack of availability for COVID-19 testing, but leading indicators can help predict potential areas of concern before testing takes place. Each patient who is eventually diagnosed with severe complications of COVID-19 while in an intensive care unit has progressed through a series of tests, procedures, diagnoses, and pharmaceutical interventions. This pattern, which includes screening procedures such as telemedicine, rapid flu testing, and chest x-rays, can be observed clearly in the tens of millions of medical claims from all fifty states processed through Cotiviti's Caspian Clarity platform on a daily basis. By comparing this current claims data against historical trends, anomalies emerge that could indicate areas of hidden outbreak.