Staffing for success
Each client's project begins with a careful assessment of scope. We review prior-year benchmarks for forecasting purposes, look at the anticipated volume by measure, then determine the number and proper mix of staff to ensure that the project will be completed on time and with the highest level of accuracy.
We use a combination of internal staff, direct contract staff, and vendor staffing partners to form a bank of expert registered nurses and certified coders. This approach allows us to handle volume spikes with ease. Registered nurses have clinical and chart review experience, and coders are certified through AAPC or AHIMA.
Our staff can extract information directly from electronic medical record (EMR) systems, which saves time and increases the number of compliant hits. We can also highlight the record, helping clients and auditors to quickly find the same information.
For organizations looking to reduce costs—25 percent cost reductions are typical—we also have an offshore option. Nurses are registered in the United States, and all overreading and quality assurance (QA) is performed on shore.
Rigorous training and QA
We conduct thorough NCQA technical specification training for our teams, focusing on measures that match their areas of clinical expertise. At the end of training, each team member is tested by abstracting a set of mock records. To pass, each team member must achieve 95 percent accuracy in no more than four tries. We also perform inter-rater reliability (IRR) testing, which must be passed with 100 percent accuracy in no more than three tries.
On the job, 100 percent of an abstractor's work is overread until his/her ability to maintain the 95 percent accuracy level is proven. Overreading then drops to 50 percent; if quality remains at 95 percent, overreading is then maintained at 15 percent. If at any point an abstractor's quality begins to dip, we retrain them and start the process over again. Overreaders are subjected to the same close scrutiny.
Accurate and efficient workflow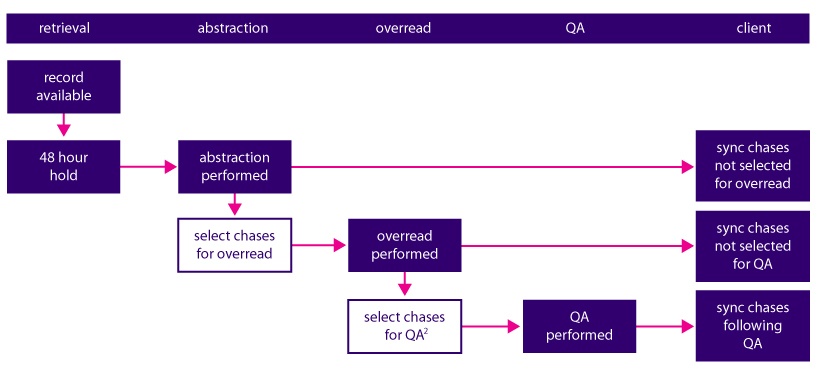 1 Random batch of overread records are selected for quality assurance by our most experienced abstractors. More accurate abstractors have smaller overread batches
2 Random batch of overread records are selected for quality assurance by our most experienced abstractors
HEDIS* is a registered trademark of the National Committee for Quality Assurance (NCQA).