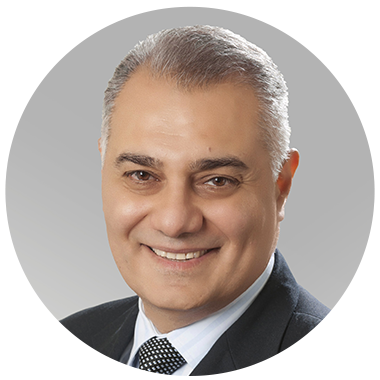 Emad Rizk, M.D.
Chairman, President, and CEO
Emad Rizk, M.D., is the Chairman, President and Chief Executive Officer of Cotiviti. He brings a 30-year, well-documented track record of delivering improved quality and financial performance to healthcare organizations through forward-thinking leadership, business acumen, and clinical expertise.
With his extensive experience working with payers, hospital systems, government, physicians, and pharmaceutical companies, Dr. Rizk has brought focus and rigor to Cotiviti's healthcare analytics and technology offerings, while positioning the organization for significant growth. Notably, under Dr. Rizk's leadership, when he was CEO of Verscend Technologies, he completed the $4.9 billion acquisition of Cotiviti Holdings, the largest payer analytics acquisition of 2018.
Prior to Cotiviti, Dr. Rizk served as President and Chief Executive Officer of Accretive Health (now R1 RCM), and as a member of its board of directors, where he completed the restatement, restructuring, and repositioning of the company's offerings and led its profitability to quadruple during his tenure. Prior to Accretive Health, Dr. Rizk was President of McKesson Health Solutions, where he grew the company's healthcare payer business to one of the largest and most significant leaders in healthcare analytics. Before joining McKesson, Dr. Rizk served as Senior Partner and Global Director for Deloitte Consulting, leading the company's medical cost and quality management practice across all segments.
Dr. Rizk serves on boards around the country and serves on the Healthcare Leadership Council— a coalition of chief executives across the entire industry that works to bring affordable and high-quality healthcare to all Americans through the growth of health information technology and reforming payment. He is also currently a Director with the National Alliance for Hispanic Health and a Senior Scholar at Jefferson Medical College. Dr. Rizk has also previously held advisory roles with Intarcia Therapeutics, Accuray, the Care Continuum Alliance, University of Miami, University of North Texas, the National Clinical Advisory Board, and the National Quality Review Board.
Well recognized by the industry, Dr. Rizk has been named by Modern Healthcare numerous times as one of the "50 Most Influential Physician Executives in the United States" as well as the "Top 100 Most Powerful People in Healthcare." Additionally, Managed Healthcare Executive named him to its "Top 25 Leaders in Disease Management." He has lectured at Wharton, Harvard, MIT, Columbia, and the Kellogg School of Management. Dr. Rizk is the author of The New Era of Healthcare: Practical Strategies for Providers and Payers. His work has also been widely published in healthcare business publications and medical journals.
Recent publications
DOTmed: Healthcare executives make predictions for 2023
Healthcare de Jure: Dr. Emad Rizk, President and CEO at Cotiviti
Managed Healthcare Executive: How expanding access to data around SDoH improves care, risk assessment (podcast)
Healthcare IT Today: 2022 Predictions for Healthcare Interoperability
Integrated Healthcare Executive: 2022 Predictions From Health IT Executives: Interoperability, AI, and More
MedCity News: What's holding health plans back from gains in interoperability? Technical readiness
Physicians Practice: How the COVID-19 pandemic affected value-based reimbursement
Physicians Practice: The secret behind value-based care success
The Incrementalist Podcast: Addressing waste in the U.S. healthcare system
Managed Healthcare Executive: Downshifting Risk Through Payer-Provider Partnerships on the Road to Value-Based Care
Physicians Practice: Strengthening Payer-Provider Partnership for Value: Why data transparency is key
Journal of AHIMA: Interoperability Is Catching FHIR
Electronic Health Reporter: Trends to look for in 2021
HIT Consultant: Gleaning Insights for COVID-19: Why Claims and Clinical Data Matter
Healthcare Business Today: Leveraging Data to Reduce Risk: 3 Predictions for Healthcare in 2021
HealthIT Answers: Industry Will Demand Continued Health IT Innovation and Solutions in 2021
HFMA: How the pandemic paved the way for fraud, waste, and abuse in telehealth
HealthIT Answers: Building a Data Defense Against Healthcare Fraud, Waste and Abuse: What to Consider
Journal of AHIMA: Three Ways Analytics-Fueled Interoperability Is Crucial During COVID-19 and Beyond
Integrated Healthcare Executive: Video: Understanding the Use of Predictive Modeling to Track the Pandemic Spread and Associated Diagnostics
Healthcare IT Today: Video: 4 Perspectives on Healthcare Interoperability
FierceHealthcare: Industry Voices—Payer priorities on the journey to interoperability
MedCity News: Racing against the clock: Covid-19 sheds new light on need for widespread interoperability
HIMSS: CEO Emad Rizk, M.D. on Cotiviti's COVID-19 Outbreak Tracker
Integrated Healthcare Executive: Breaking Down a New Infectious Disease Outbreak Tracker for Health Providers
TechRepublic: Artificial intelligence is predicting coronavirus outbreaks before they start
HIT Consultant: How AI-Driven Insight Could Fuel Medicare Advantage Success
Integrated Healthcare Executive: Achieving the True Promise of Interoperability Demands Actionable Intelligence
Healthcare Finance News: Tufts Health Plan expands telehealth amid Harvard Pilgrim merger
FierceHealthcare: Industry Voices—What does the value equation look like in the new decade?
Health Leaders: Healthcare Leaders Reflect on Major Trends in 2019
Integrated Healthcare Executive: How AI use impacts the entire care team
HFMA: The price of innovation: 3 steps for managing specialty drug costs
AI in Healthcare: Bipartisan Policy Center hosts public event on the future of AI
MedCity News: The case for moving from retrospective to prospective payment integrity
Becker's Healthcare Podcast: Scott Becker interviews Dr. Emad Rizk
HFM Magazine: The CFO's role in driving value in healthcare through informed collaboration
HFMA: The price of precision medicine: 3 ways for health plans to manage genetic-testing costs
AJMC Managed Care Cast: Addressing the complexities of value-based payment models
Healthcare Finance News: Addressing value-based care's data problem
HIT Consultant: Healthcare's uncertain future: 3 data-driven approaches for payers
Modern Healthcare: The power of data in driving transformative innovation
HFMA: How health plans can achieve next-level cost efficiencies using artificial intelligence and analytics